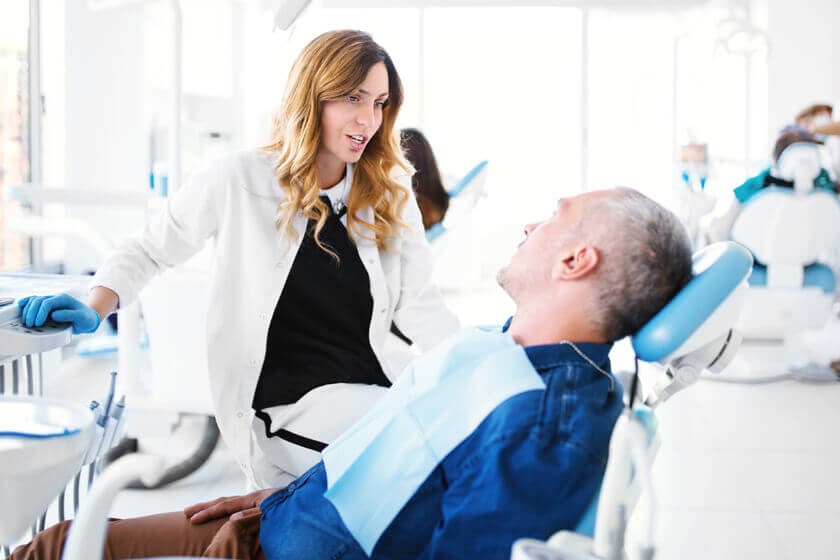 UNCOVER MORE BENEFICIAL INFORMATION ABOUT IV SEDATION FOR ORAL CARE
If you consider sedation at your dentist's office, your first thought tends to be laughing gas. Even though nitrous oxide gas (more commonly called laughing gas) is generally utilized during dental procedures, there are many alternatives available based on your unique needs and the procedures you're seeking out. For people with serious dental worries, or when you're undergoing oral surgery, a dentist could suggest IV sedation. IV sedation (or intravenous sedation) administers the sedative directly into your bloodstream during your surgery. For individuals in Pewaukee, WI who are undergoing longer or invasive oral treatments, including those who harbor a serious fear of going to the dental office, intravenous sedation can be a helpful alternative to keep you worry-free during your visit. In this post, our dental practitioners at DentalWorks - Pewaukee set out to go over if you're a candidate for IV sedation and list out situations when IV sedation is typically used, as well as what to expect.
WHO IS AN EXCELLENT CANDIDATE FOR IV SEDATION?
A person must be in excellent overall health to qualify for intravenous sedation. Our dentist in Pewaukee, WI will learn about your medical history, your current ailments, and which medications and vitamins you are taking currently prior to suggesting IV sedation. These facts will help us determine whether or not you are able to be given IV sedation, along with the type of substance and dose they will use. Potential clients must tell their dental practitioner if they have any allergic responses to specific medications or anesthesia. Since intravenous sedation involves using a needle to place the sedative directly into your bloodstream, it's suggested that you don't have anxieties associated with needles. It's important to be open with your dental professional during your consultation so they can determine if you are a qualified candidate for IV sedation.
IDEAL SITUATIONS FOR INTRAVENOUS SEDATION
IV sedation is often utilized for three primary purposes — to aid people with severe dental anxieties, to keep individuals relaxed during surgical treatments, and to benefit those with a lower pain threshold or a sensitive gag reflex.
For those who have a strong gag reflex or very little tolerance for discomfort, intravenous sedation could even be useful during twice-yearly cleanings and common procedures. Relaxing comfortably in a treatment room might be effortless if there's a way to allow you to fight against the need to gag. IV sedation could be helpful to help you through twice-yearly teeth cleanings or other treatments, such as a composite resin filling or SRP for gingivitis.
Assuming you experience intense dentophobia (fear of the dentist), you can potentially be a candidate for IV sedation. Those with a minor anxiety level may be better suited for a tamer kind of sedation, such as laughing gas or oral-conscious medication. If you have dental anxieties as a result of a distressing past experience or some other reason, but you still require a dental procedure or desire to maintain your oral health, schedule an appointment at DentalWorks - Pewaukee to go over your sedation options. Our knowledgeable dentists can help you decide if intravenous sedation is ideal to meet your individual needs.
For longer appointments, IV sedation might be helpful individuals calm. Intravenous sedation is generally used during surgical tooth removals and dental implant operations. Gum surgery to manage gum disease could also call for IV sedation since incisions are made into the gum tissue to reach deeper areas.
THE DETAILS YOU SHOULD LEARN PRIOR TO YOUR CONSULTATION
During your consult, your dentist will usually talk about how to ready yourself for IV sedation, which might consist of not consuming food or drinks for 2 – 3 hours before your visit. Depending on your unique case, you might additionally have to stop taking particular prescription or nonprescription medications prior to your IV sedation to avoid an unwanted interaction. When you are relaxing comfortably in a treatment room chair, a tube is secured in your vein. After this, we will dispense the solution straight into your body. Intravenous sedation will become effective very suddenly, and the dosage will be altered throughout your procedure based on your needs. Topical anesthesia might also be used to desensitize a specified region of your mouth before our dental team begins your procedure. Depending on the dosage of IV sedation used, you could be somewhat aware of your surroundings and able to follow simple instructions, but you will doubtfully recall what happened throughout your operation. Once your treatment is finished, the sedative will be turned off, and you will soon return to normal. Individuals usually feel groggy initially, but they often begin to regain consciousness in no time and speak and navigate normally.
WHAT OCCURS AFTER A PROCEDURE WITH IV SEDATION?
Following your procedure, you should plan for a reliable adult or family member to take you home since you might not be allowed to drive. Additionally, we will ask you to have a rest and recover for what remains of the day. The medication and its effects will most likely dissipate over the course of a night, but be cautious when you carry out activities the day after, specifically driving. Your dental professional will review any post-treatment instructions if you received oral surgery. Your dentist will also go over how to care for your incisions and how to keep your mouth healthy. Please call our office in Pewaukee, WI if you come across any questions after your IV sedation treatment.
OVERCOME YOUR FEAR OF SEEING THE DENTIST WHEN YOU RECEIVE IV SEDATION
If IV sedation sounds like it might be a great alternative for your circumstance, it's important to select an office in Pewaukee, WI who is trained and qualified to carry out this valuable component. When provided by a qualified dentist to a fitting candidate, IV sedation should even help with extreme dental anxieties and keep patients calm during a number of procedures. For people who are interested in learning more about various sedation techniques, we advise you to contact DentalWorks - Pewaukee to talk about your personal needs during an appointment with our skilled dental team.