Making Your Smile More Confident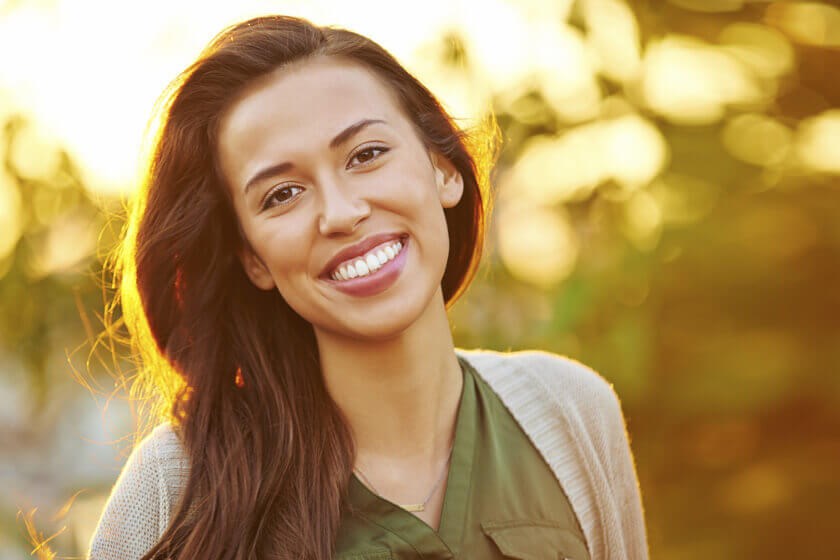 HOW A SMILE MAKEOVER CAN HELP YOU SMILE YOUR BEST SMILE!
What is your smile doing to help or hurt your confidence? If you're hiding your smile because of cosmetic imperfections like discoloration or crooked teeth, then a smile makeover by a dentist in Pewaukee, WI might be the perfect solution to boost your confidence and appearance. At DentalWorks - Pewaukee, our team perform smile makeovers that might consist of laser gum contouring, porcelain veneers, home and laser teeth whitening, Invisalign, or dental restorations to replace missing teeth. No matter what your needs and goals are, our team is trained in a diverse range of cosmetic dentistry treatments so we can develop the ideal smile makeover plan for you. Take a little time to learn about some of the most common problems people in Pewaukee, WI have about their smiles and what treatments we offer at DentalWorks - Pewaukee to help.
COMMON PROBLEMS ADDRESSED DURING A SMILE MAKEOVER
Cosmetic dentistry procedures can be used to improve many aesthetic concerns that men and women in Pewaukee, WI have about the appearance of their teeth and gums. Some of the top issues people have are:
CROOKED TEETH
Misaligned, crooked teeth have a massive influence on the overall look of your smile. If your teeth are crooked or out of alignment, then you could be a fantastic candidate for an orthodontic treatment, like Invisalign. Good for older teens and adults who want straighter teeth without the drawbacks of traditional metal braces, Invisalign is practically invisible and can be removed so it is simple to brush and floss your teeth. Straight teeth in correct alignment not only make your smile look better, but it will improve your overall oral health.
A "GUMMY" SMILE
If the gum tissue is overgrown, it can cause a bad ratio of gum to enamel. This leads to what is commonly known as a "gummy" smile. While it is typically not a serious problem, it can make your teeth seem short and affect the appearance of your smile. Laser gum sculpting (also known as crown lengthening or gum contouring) removes the excess soft tissue to give you an even gumline. A skilled dentist in Pewaukee, WI will sculpt your best gumline for a beautiful smile.
STAINS AND DISCOLORATION
Every glass of red wine, coffee drink, and tasty berry you enjoy can leave an enduring impression on your smile. If you're not brushing your teeth right after every time you eat and drink (who has time for that?), then your enamel is getting stained. Over time, this can make your smile look dark or yellow. You may have tried or thought about over-the-counter teeth whitening products, but these deliver limited results. For fast, safe, and effective results, add professional teeth whitening to your smile makeover. Most dentists in Pewaukee, WI offer both custom home whitening kits and in-office laser whitening.
MISSING TEETH
If you're missing a tooth or teeth, it is impacting the overall look of your smile. No matter how you lost the tooth, your cosmetic makeover plan can help restore your smile. One lost tooth can be concealed with cosmetic veneers or replaced with a custom restoration. An implanted crown, bridge, or dentures can be used to replace one tooth or a couple in your smile for a long-lasting restoration. Another option is a custom-made bridge that will be shaped and shaded to match your natural teeth for a seamless result.
DENTAL GAPS
A few people love the quirkiness of a gap between their teeth, but if you aren't a fan of yours, there are numerous cosmetic dentistry procedures that could help. Depending on the size of the distance between your teeth, you may consider custom porcelain veneers to cover the gap. A slim shell made of high-quality porcelain, dental veneers are attached to the front of your teeth. A good cosmetic dentist will ensure your veneers are natural-looking and fit comfortably. If you have gaps between many teeth, you may want an Invisalign treatment to repair the spacing. A series of clear, removable aligners, Invisalign gently moves your teeth into the proper position to eliminate gaps.
CHIPPED TEETH
Even a small chip in your tooth can make your smile look irregular and jagged. One great option to restore your smile is cosmetic veneers. A thin porcelain shell will be bonded over the chipped tooth to make your smile appear even. Porcelain are customized to cover your visible top teeth, bottom teeth, or both depending on your needs. Small chips may also be improved through bonding and contouring, a procedure that uses composite resin (the same material used in modern fillings) to replace the lost enamel. While bonding and contouring is a quicker procedure, the results of veneers usually last longer.
SMALL OR MISSHAPEN TEETH
Small or misshapen teeth may benefit from porcelain veneers. Underdeveloped teeth (microdontia) will impact the look of your smile. While this typically does not affect your dental health, it does make your smile appear immature and less attractive. A set of high-quality cosmetic veneers can improve the overall look of your smile by concealing misshapen and/or small teeth.
HOW TO MAINTAIN YOUR RESULTS
Once your smile makeover is finished, it's important to keep your smile looking fantastic. This includes a good home oral hygiene routine (brushing, flossing, and mouthwash) that you stick to every day. To help keep your enamel sparkling, ask your dentist for a home teeth whitening kit. With professional whitening gel and comfortable custom whitening trays, you can use your kit as needed to boost the brightness of your teeth. Along with home oral care, you need to continue to see your dentist in Pewaukee, WI at least twice a year for an annual oral health examination and professional cleaning. During these visits, your dental team will look for any developing problems (like cavities and gum disease) and treat them so your smile stays beautiful and healthy.
SCHEDULE A SMILE MAKEOVER CONSULTATION
No matter whether your smile needs just a few small adjustments or a full restoration, a smile makeover will be personalized to include the cosmetic and restorative treatments that fit your aesthetic goals. If you're interested in a smile makeover, schedule a consultation at our office in Pewaukee, WI. With years of experience, state-of-the-art equipment, and modern techniques, our team at DentalWorks - Pewaukee will work with you to develop your smile makeover plan. Come in with your needs and concerns and get ready to walk out with a smile ready to stun the streets of Pewaukee, WI!