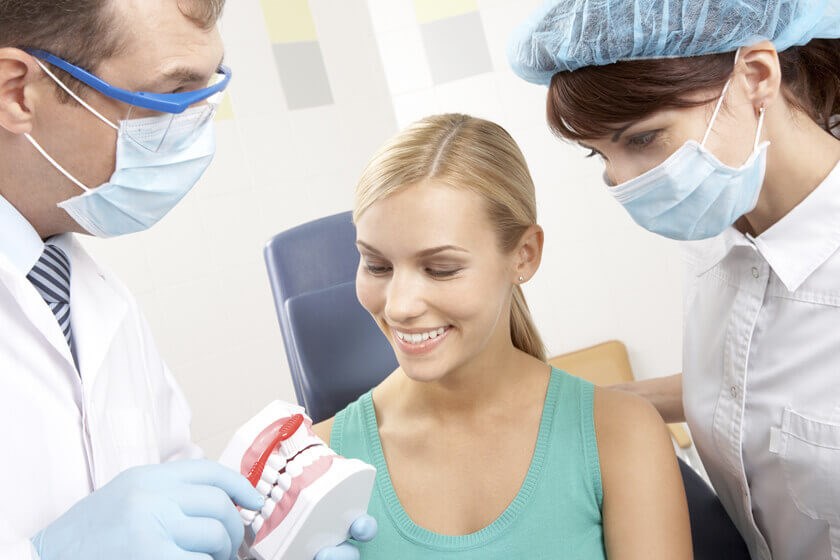 A person's smile is often the first thing others notice about someone. A gorgeous smile can be one of your most attractive traits. We frequently view commercials and TV ads that present beautiful men and women with dazzling white smiles reminding us to brush a minimum of twice per day. While you are likely doing this, do you actually pay attention to how you brush and floss your teeth?
There are around 300 – 700 types of bacteria residing in your mouth. When you neglect to brush your teeth effectively, these bacteria can attach to food particles and plaque and tartar, which eventually causes tooth decay and a host of other oral concerns. If you don't brush your teeth often, or if you don't take note of how you are brushing, you may increase your risk of developing cavities, periodontal disease, and even jawbone and gum reduction near the teeth.
Good dental health starts with practicing the correct methods. As easy as cleaning your teeth may seem – you've likely been doing it since you were a child – not many people clean their teeth as well as is necessary to maintain their dental wellness. While you might be making mistakes when you clean your teeth, there are ways to address them. To help avoid oral health problems before long-term conditions can occur, patients should schedule a dental appointment with our dentists at DentalWorks - Pewaukee in Pewaukee, WI at least once every year.
If you pause for a second and think about your tooth brushing techniques, is it possible you could be making numerous mistakes without even realizing it? If some of these mistakes pertain to you, DentalWorks - Pewaukee in Pewaukee, WI can help you develop correct dental practices for the long term.
FAILING TO REPLACE YOUR TOOTHBRUSH OFTEN
The team of dental professionals at DentalWorks - Pewaukee advises men, women, and children to replace their toothbrush every about three months. Ragged and damaged toothbrush bristles will do little to keep your teeth healthy. Over time, these bristles lose flexibility and aren't suitable to effectively clear out the food particles in your mouth. Additionally, bacteria and tartar can accumulate on a person's toothbrush after prolonged use, which can create many dental issues. Make sure to remember to replace your toothbrush every 3 – 4 months.
MAKE SURE YOU DON'T BRUSH TOO QUICKLY
Spending a mere one minute to brush your teeth is definitely a big mistake. The average amount of time many people take brushing their teeth is forty-five seconds, which is not even close to a good amount of time. The practitioners at DentalWorks - Pewaukee urge people of all ages to brush their teeth for an entire 2 minutes twice every day. Any amount less than that does not give the fluoride in the toothpaste sufficient time to work its way into your enamel. To make sure that you're giving plenty of time to cleaning your teeth, use the timer on your personal device every time you brush.
IT'S BAD TO WASH OUT YOUR MOUTH AFTER BRUSHING
Most of us are likely guilty of rinsing out our mouths once we have finished brushing. In fact, this can be a regular practice for many people. However, doing this significantly reduces the efficiency of the fluoride from your toothpaste, as well as its ability to protect your teeth. Rather than water, use a mouthwash containing fluoride to rinse out your mouth once you're finished brushing.
AVOID SCRUBBING TOO AGGRESSIVELY
"Rougher" is not better in regard to brushing your teeth. A soft technique is all you need to clean your teeth effectively. While you may believe that brushing your teeth rougher will remove more of the bacteria and debris that lead to cavities and other oral problems, the truth is that it may actually cause harm. Too much pressure can actually lead to gum recession. Rather than scrubbing harshly, brushing your teeth should resemble a gentle massage.
SET YOUR TOOTHBRUSH ON THE COUNTER TO DRY WHEN YOU'RE FINISHED BRUSHING
The dental practitioners at DentalWorks - Pewaukee advise patients to keep their toothbrushes standing up and let them dry in the open. When you store a wet toothbrush in a covered toothbrush holder, it may grow harmful bacteria.
NEVER USE BRISTLES THAT ARE TOO HARD
Some patients think that firmer toothbrush bristles are more effective for cleaning teeth because they are what removes dangerous bacteria and tartar from the mouth. However, stiff bristles are not best for brushing your teeth. Hard bristles will wear down the structure of the teeth by stripping away the protective outer layer of your enamel]. As a result, you could end up with tooth sensitivity. Heat and cold sensitivity is when your teeth react when you consume something hot or cold. Stiff bristles will also deteriorate the gumline. Our dental professionals at DentalWorks - Pewaukee are always glad to recommend the correct products for your best oral wellness.
AVOID USING THE WRONG BRUSHING METHODS
Proper technique makes a big difference when it comes to brushing your teeth. To get a thorough clean, you should address multiple areas, including all surfaces of the teeth. Additionally, the gumline, tongue, and the roof of your mouth should be tended to. The dental practitioners at DentalWorks - Pewaukee tell everyone to follow these important rules:
It's important that your toothbrush touches the teeth and gumline.
NEVER FORGET THE SIGNIFICANCE OF FLOSSING EACH DAY
To maintain your dental health, it's important to floss every day. Flossing daily helps to eliminate the plaque between your teeth, especially in places where your toothbrush won't reach. Tartar that is not removed turns into calcified deposits on your teeth and gums, which can result in all sorts of dental concerns.
BEGIN USING BETTER TOOTHBRUSHING TECHNIQUES TODAY
Generally, it takes several weeks to learn improved habits. Attempting to incorporate one meaningful change to your toothbrushing regimen each week might prove beneficial in the long run. Employing proper toothbrushing techniques along with twice-yearly visits to DentalWorks - Pewaukee in Pewaukee, WI will ensure your future oral health and lower your chances of needing extensive dental procedures in the future. Contact the team of experienced dental professionals at DentalWorks - Pewaukee. We offer a comprehensive array of preventive care and restorative services for the whole family.